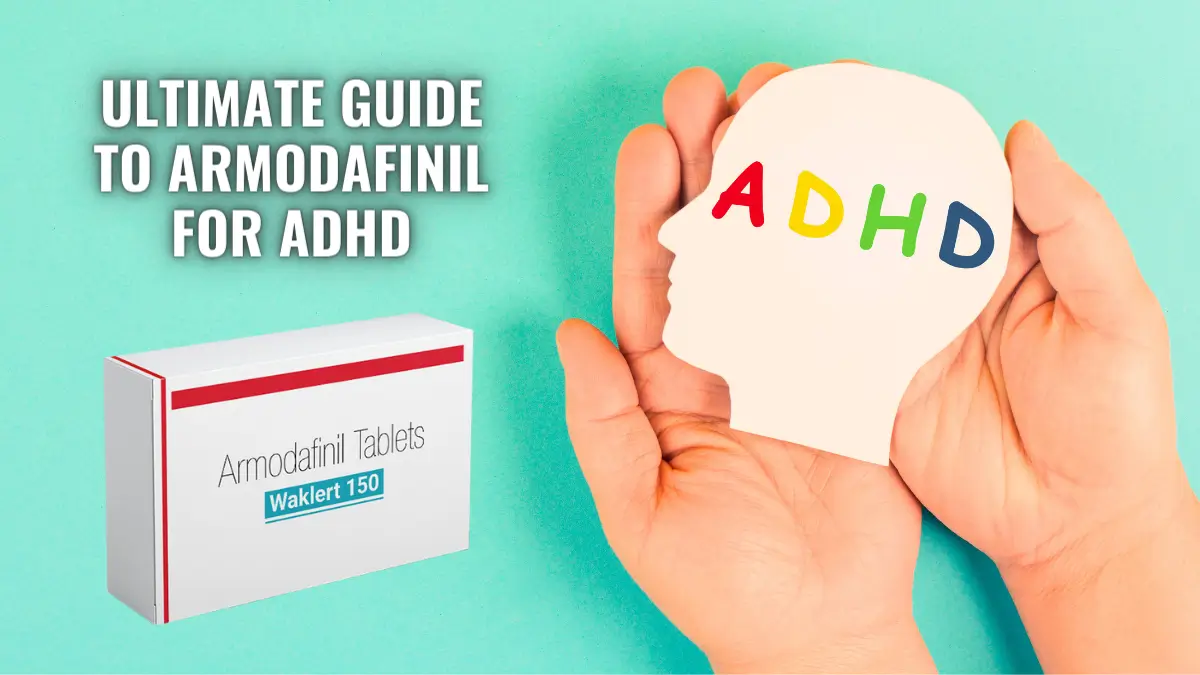 Ultimate Guide To Armodafinil For ADHD
Armodafinil is a medication that belongs to the Eugeroic group and promotes wakefulness. Besides the three clinical uses- Narcolepsy, Obstructive Sleep Apnea, and Shift Work Sleep Disorder, Armodafinil is also used for ADHD, Chronic Fatigue Syndrome, Bipolar disorder, etc.
Armodafinil is a medication that is used for both on-label and off-label Uses.
The three primary clinical uses of Armodafinil are- Narcolepsy, Obstructive Sleep Apnea, and Shift Work Sleep Disorder.
Though the FDA disapproves Armodafinil for ADHD, many studies have shown that it is widely used among people to fight the symptoms of Armodafinil.
What Is Armodafinil?
Armodafinil is the R-enantiomer of Modafinil that belongs to the Eugeroic group (group promoting wakefulness properties). 
It is a prescription medication that effectively treats sleep disorders like Narcolepsy, Obstructive Sleep Apnea, and Shift  Work Sleep Disorders. The medication also has off-label uses like ADHD, Chronic Fatigue Syndrome, Bipolar Disorder, Cognitive Enhancement, etc. 
The FDA certified the use of the medication in June 2007.
Armodafinil is a Schedule IV Controlled substance. It is sold under brand names like- Nuvigil, Artvigil, Waklert, etc.
Teva Pharmaceuticals Pvt. Ltd. manufactures Armodafinil.
How Is Armodafinil Used To Treat ADHD?


ADHD (Attention Deficit Hyperactivity Disorder) is characterized by impulsive behaviors, trouble paying attention, and an inability to make proper decisions. The disorder is chronic and can't be cured entirely.
According to a study by Stephen V. Faraone and others, it was stated that standard genetic variations in ADHD problems hold a consequential relationship with dopamine [1].
The study also offers a remarkable explanation for why drugs that benefit ADHD also tend to increase dopamine levels in the brain.
Armodafinil is a medication that increases dopamine levels in the brain and inhibits GABA.
Though the use of Armodafinil is not clinically approved yet, it has been widely used by the people of the US [2].
What Are The Benefits Of Using Armodafinil (Nuvigil) For ADHD?
4 Important benefits that are availed of using Armodafinil ( Nuvigil ) for ADHD are-
Boost in Energy Level

: People with ADHD might suffer from lower energy levels. In most cases, people might also suffer from being overly active. Armodafinil is a medication that helps people perk up. 
Improves productivity

: An increase in energy automatically leads to an increase in productivity. 
Increased Alertness

: People suffering from ADHD struggle with decreased alertness. Armodafinil promotes vigilance and helps people remain alert.
Cognitive Enhancement

: People who have ADHD suffer from low arousal. Armodafinil helps in the enhancement of cognition. 
Increases Focus

: Armodafinil helps increase your focus and memory power, allowing students to study and secure good grades. 
If you are looking for Affordable Armodafinil 150mg tablets online to treat the signs of ADHD, you can choose mymodalert for assured discounts and free shipping. 
Armodafinil Dosage For ADHD
Armodafinil comes in tablet form with 150-250 mg dosage strengths. However, the dosage might vary from patient to patient. The standard recommended Armodafinil starting dose is 150 mg/day.
The Armodafinil dosage might vary depending on age and health conditions like liver or kidney dysfunction.
The Armodafinil starting dosage for ADHD is 150mg/day.
However, it might also range to 500 mg/day ( maximum dose). You should not exceed the Armodafinil dosage of 500 mg/day.
You should take the dosage immediately if you have missed an Armodafinil dose. If your next dose of the schedule approaches, you can skip the missed dose and follow your regular dosage schedule.
Do not overlap the doses; it might lead to an Overdose that might have symptoms like –
Headache, Agitation, Anxiety, Depression, Insomnia, etc.
Can I take Armodafinil for ADHD daily?
Yes, you can take Armodafinil for ADHD daily once in the morning as per the dosage prescribed by the doctor.
Armodafinil Side Effects
A medication has some adverse effects along with the benefits. Armodafinil Side Effects might be expected and go away independently and do not require any immediate medical response. Some Side Effects are less common and need a quick medical response. 
6 common Armodafinil Side Effects are-
Anxiety

Dry Mouth

Headache

Irritability

Trouble in Sleeping

Unusual tiredness or weakness.
6 less common Armodafinil Side Effects are-
Acidity or sour stomach

Belching

Cough and Chills

Indigestion

Sore-throat

Vomiting
However, you should consult your doctor before taking the medication. If any of the symptoms mentioned above occur severely, then you must seek medical attention [3].
Customer Reviews On Armodafinil For ADHD
The customer reviews Armodafinil for ADHD from the website Drugs.com will help you in a practical way of choosing the medication better.
According to Drugs.com, Armodafinil has an average rating of 8.2 out of 10. 
Armodafinil for ADHD
Armodafinil was a game-changer for me. Now, I can stay connected to the real world.
Armodafinil for ADHD
Before Armodafinil, I was taking Adderall and Ritalin, which made me suffer from the worst symptoms. After I started taking Armodafinil, my world completely changed. It helps me to stay motivated and focused.
Armodafinil Vs. Modafinil For ADHD- Which is a better treatment option? 
Armodafinil and Modafinil are both wakefulness-promoting agents. The clinical and off-label uses of both medications are the same. However, Armodafinil is a newer medication that is considered more practical, as Armodafinil's effects last longer than Modafinil. 
Overall, Armodafinil is a better nootropic than Modafinil.
Armodafinil for ADHD: Conclusion
Armodafinil for ADHD is effective within 30 minutes after consumption. Though Armodafinil for ADHD is off-label, it has been efficacious in fighting the symptoms. The dosage for Armodafinil for ADHD is 150mg/day, taken once daily in the morning.
FAQs
Is ADHD a lack of Dopamine?
One trademark of ADHD is low levels of Dopamine.
Does Armodafinil increase Dopamine?
Armodafinil works by increasing the levels of Dopamine.
Does Armodafinil work immediately?
Armodafinil starts its working within 1 hour after consumption.
How safe is Armodafinil?
Armodafinil might cause some people to feel irritated or agitated or display other abnormal behaviors.
Is Armodafinil approved for ADHD?
The use of Armodafinil for ADHD is not approved by the FDA, but many people use it, and it has worked well for the symptoms of ADHD.
References
Beginners Guide To Armodafinil For ADHD, modafinil.org

Armodafinil, Drugs.com