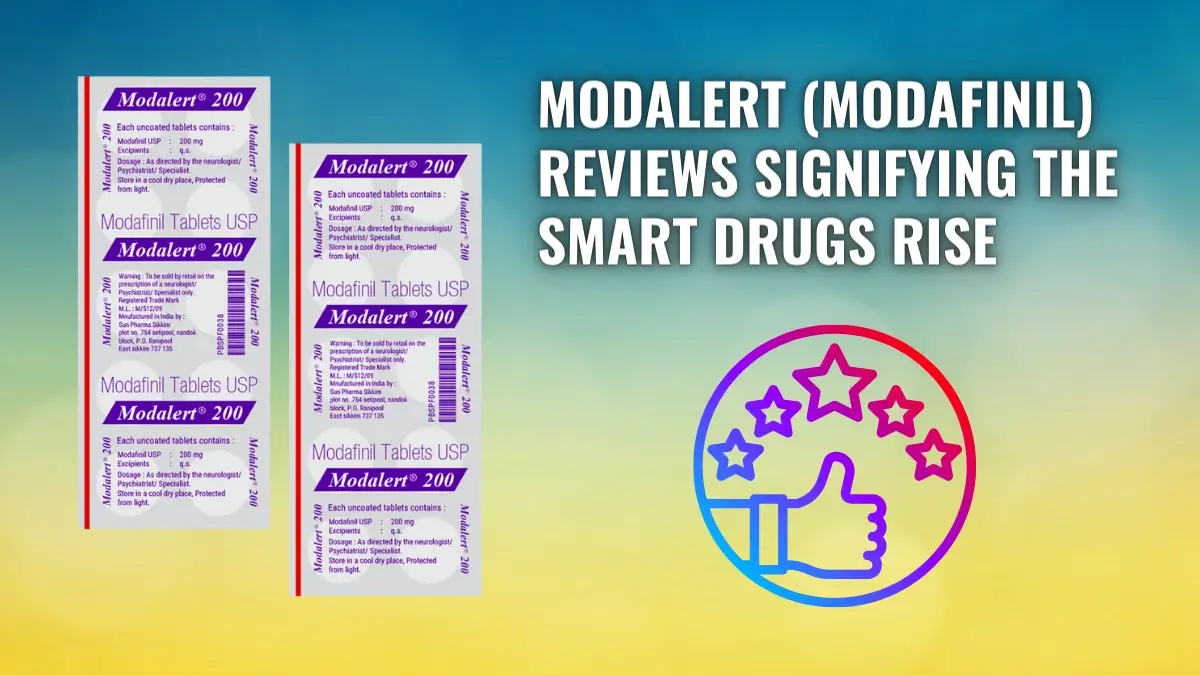 Modalert (Modafinil) Reviews Signifying The Smart Drugs Rise
Modafinil has various reviews and ratings on numerous websites. On the popular website drugs.com, Modafinil has an average rating of 7.2 out of 10, whereas on WebMD, this Nootropic has a rating of 3.9 out of 5. 
Modafinil, customer ratings, and reviews on various websites are extremely important for people who are planning to try the popular nootropic. 
In this blog, we take you through the reviews and experiences of Modalert users to help you understand its potential clinical benefits and health risks and assist in making an informed decision. 
What Is Modafinil (Modalert)?
Modafinil is a popular wakefulness-promoting agent that goes by different brand names, such as Modlert and Modvigil. Modalert was developed in the 1970s and was released in the 1990s. 
Modafinil drug class

Stimulant, wakefulness-promoting agent. 

Modafinil legality:

Canada – Prescription only

USA – Schedule IV

UK – Prescription only. 

Is Modafinil a controlled substance?

Yes, Schedule IV controlled substance. 

How long does modafinil take to work?

Thirty minutes.

How long does it take for modafinil to wear off?

10-12 hours. 

Modafinil manufacturer

Teva Pharmaceutical Industries. 
Modafinil Uses
Three FDA-approved uses of Modalert are – 
Obstructive Sleep Apnea,

Narcolepsy,

Shift Work Sleep Disorder.
Four Off-label uses – 
Attention Deficit Hyperactivity Disorder

Cocaine dependence

Cognitive Enhancer

Cancer and Multiple Sclerosis-related fatigue [1]. 
Modalert Dosage 
The most commonly recommended dosage of Modalert is 200 mg, which is taken in the morning for Narcolepsy and Obstructive Sleep Apnea and 1 hour before work in case of Shift Work Sleep Disorder.
Modafinil Overdose
The highest Modafinil dose in a day is 400 mg. Taking the nootropic more than the highest dose can result in an overdose. In that case, it is recommended to visit your nearby hospital or talk to your doctor. 
Some of the symptoms of an overdose are – a fast or pounding heartbeat, increased blood pressure, agitation or excitement, and insomnia [2].
Administration – Proper way to take the nootropic 
Swallow the whole Modafinil tablet with a glass of water.

Taking Modafinil every day at the same time is recommended.

Do not break the medicine.

Take the medicine as directed by your physician. 
Modafinil Side Effects
Eight common Modafinil adverse effects are headache, nausea, decreased appetite, dizziness, diarrhea, rhinitis, insomnia, and anxiety.
Three rare side effects of this popular drug are Stevens-Johnson syndrome, toxic epidermal necrolysis, and rash with eosinophilia and systemic symptoms [1].  
Modafinil Long-Term Effects:
Taking Modafinil in the long term can cause physical and psychological dependence on the medicine [3]. 
Modalert Reviews – User Experiences 


In the table below, we've mentioned the average ratings of Modafinil for various conditions that is given on the website drugs.com.
| | |
| --- | --- |
| Condition | Average Rating  |
| Narcolepsy | 6.5/10 |
| Depression  | 8.8/10 |
| ADHD | 7.6/10 |
| Obstructive Sleep Apnea | 7.8/10 |
| Shift Work Sleep Disorder  | 8.1/10 |
Some of the modafinil experiences on Modalert are as follows –
Modafinil Weight Loss Reviews
On the website drugs.com, a patient suffering from ADHD wrote – "This medicine is a life changer for me. Modafinil helps me to focus without any side effects and has caused minimal weight loss. It has improved my life to a point that even my friends and family members are noticing."
Another user on the website Reddit wrote, " I have been able to lose around 20 pounds on Modalert in just two months."
Modafinil For Adhd Reviews:
"Modalert is an amazing medication for patients with Attention Deficit Hyperactivity Disorder. Yes, I take it for off-label use, but it works wonders," says Ktano on the website drugs.com.  
"I have been prescribed Modafinil for Attention Deficit Hyperactivity Disorder about 1 year ago. For me, this medicine works well and helps me to finish my projects on time that were usually left undone. And coming out of the drug is easier than other medicines of the same class," says Kat. 
"I love Modalert (Modafinil). This medicine calms me down, and I can focus on my present situation rather than overthinking. It's not a miracle pill, but I feel it's better than other nootropics. Worth a go!!" 
Modafinil For Depression Reviews:
" Modafinil is a wonder drug for treating the symptoms of depression. I have suffered for many years with depression and never found any relief from antidepressants. Either the side effects of the antidepressants were not tolerable, or the medicine just didn't work for me. Within 3 days of taking Modafinil, I felt the most productive and happiest I had been in a year. I don't suffer from anxiety attacks anymore, and I get a good night's sleep and wake up feeling refreshed the next morning. Modafinil literally saved my life," says Jaguiar. 
"Modalert (Modafinil) saved my life. Before taking this medication, I was very depressed and tried various drugs but had little success. I felt hopeless and suicidal, so my psychiatrist prescribed me Modafinil 200 mg, and my life has improved dramatically. I no longer spend days in my bed and feel functional, and most importantly, I enjoy my life," says Joyce. 
Modafinil For Studying Reviews
"Modalert helps me stay attentive or alert, helps me to sit down for more than half an hour, and lets me get my work done. I have also noticed that I remember a lot of things from revision when I'm using Modalert," says a user on the platform Reddit. 
"After completing medical school, I was going through extreme exhaustion. Modafinil helped me to stay alert and awake so that I could study.  I am always awake and alert during the day, even though I am up all night". 
Modafinil For Anxiety Reviews: 
"For many years, I have taken antidepressants for my anxiety issues. They did help, but it was always a lack of motivation that was the main problem. My doctor added Modafinil, and it works for me, and it makes me feel like myself,"  says Zaharara Aninditha on the website Quora.
Modafinil For Narcolepsy Reviews:
" For many years, I have suffered from Narcolepsy; for many years, nothing worked in my case. I have been fired from various jobs due to extreme sleepiness on the job, and this Medication from day 1 changed my life. I am no more agitated or restless, but I am just awake," says Jean Claude on the website WebMD. 
"I was diagnosed with Narcolepsy a couple of years ago. This drug has been God sent for me. I no longer worry about feeling sleepy during conferences, meetings, and work. I wish I had been aware of this medicine these years," says Briana on the website WebMD. 
Modalert For Obstructive Sleep Apnea Reviews:
"I have Sleep Apnea, and I take Modafinil 200mg once a day, and it has given my life back. I was in danger of losing my job because, due to exhaustion, I was not able to focus on my work. There were no side effects after taking the medicine," says an anonymous on the website drugs.com. 
"This medication can really save lives. I truly felt I would never find any relief from Obstructive Sleep Apnea, but then I was finally prescribed Modafinil 200 mg. I can actually smile now and come out of depression," says a patient suffering from obstructive Sleep Apnea on the website drugs.com.
Modafinil For Shift Work Sleep Disorder Reviews
Reviews of Modalert for Shift Work Sleep Disorder from the website drugs.com are given below –  
"I don't know how I ever lived before without Modalert. This medication works wonders for those who work swing shift".
"I work in a rotating shift for 12 hours, that is, 3 days, 3 nights, and 3 days off I have been taking Modalert for 5 years, and I can't say anything negative about this medicine."
In addition to user reviews, comparative studies of Modalert with Modvigil indicate it to be a better and stronger Modafinil brand that offers a longer duration of action and efficacy.
Where To Get Modafinil?


Modafinil pills are available on various online websites. However, it is important to check which online pharmacies are genuine and provide quality and original products. 
Mymodalert is an online pharmacy that sells Modafinil and its brands, such as Modvigil and Modalert, at affordable prices.
Some of the key benefits of this online pharmacy are –
Safe online payment.

Easy return and refund policies.

Easy to use website.

Free shipping.
Conclusion
In this blog, we have gathered reviews from various websites that will help you to know about the clinical health benefits and dangerous or costly consequences of the effective wakefulness-promoting agent, "Modafinil'.
We hope that these reviews will help you to make an informed decision on whether you should go for this medicine or not. It is important to make one thing clear: before buying Modafinil, one should always consult their primary healthcare provider.
FAQs
What does Modafinil do to the brain?
Modafinil increases the levels of certain neurotransmitters in the brain, such as dopamine, histamine, orexin, serotonin, and norepinephrine, which in turn promotes wakefulness.
Is it safe to take Modalert daily?
Yes, Modafinil is safe to take every day.
Does Modafinil work immediately?
Modafinil works within 30-60 minutes after ingestion.
Does Modafinil damage dopamine?
No, Modafinil doesn't damage dopamine.
Is Modafinil safe for the heart?
Modafinil disturbs automatic cardiovascular regulation due to an increase in heart rate. This elevates the magnitude of your heartbeat, which in turn creates vigilance for patients with heart disease.
Is Modafinil a mood enhancer?
Modafinil doesn't only have wakefulness-promoting properties, but it is also known for its mood-enhancing effects.
References
Modafinil, NCBI

Modafinil (Oral Route), Mayoclinic.